7 places in your house that give signs that you need a new roof
A roof is one of the essential parts of a house, both for aesthetics and protection. One of the first places people look when they see an unfamiliar house is its roof. And, from that first glimpse, they form opinions about the house and those living there. Thus, a roof in excellent shape will give the impression of a well-kept home and conscientious homeowners.
Conversely, a roof in obvious disrepair will give people a poor opinion of the house and those occupying it, which is something you want to avoid if you are considering selling your home. Aside from the aesthetic appeal of a well-kept roof, a roof in good shape keeps your family safe from leaks, rotted beams, or other damage that may ruin your belongings or worse, result in a devastating cave-in.
Water damage is one of the significant culprits we have identified with compromised roofs, and it can be a sneaky one. However, it's possible to recognize the signs and take action before the damage spreads too far. Here are seven places to check routinely for signs your roof may be compromised.
7 places with signs you need a new roof
Vigilance is the name of the game when looking to react quickly to roofing problems. The National Roofing Contractors Association recommends that you perform a regular roof inspection twice a year – in the spring and fall.
Roofing damage can present with different signs, however, and you need to know which areas of the house to look when checking for it. Some of the places include:


Attics and ceilings
While we do not expect you to climb up to your roof every time you want to check for damages to your roof, it is a great idea to go up to the attic as often as possible. It would be best if you did this, preferably right after a rainfall.
While there, look closely for any signs of water intrusion, as serious water leaks in homes typically originate from the attic. If you do not want to wait for a heavy rainfall before checking for distress signs in the attic, go up there and look for beams of light coming through the roof or stains and streaks (classic signs of a leaky roof).
Also, if you see dark stains or streaks on your ceilings or the top of your walls down to the bottom, you may be looking at signs that you need a new roof.

The shingles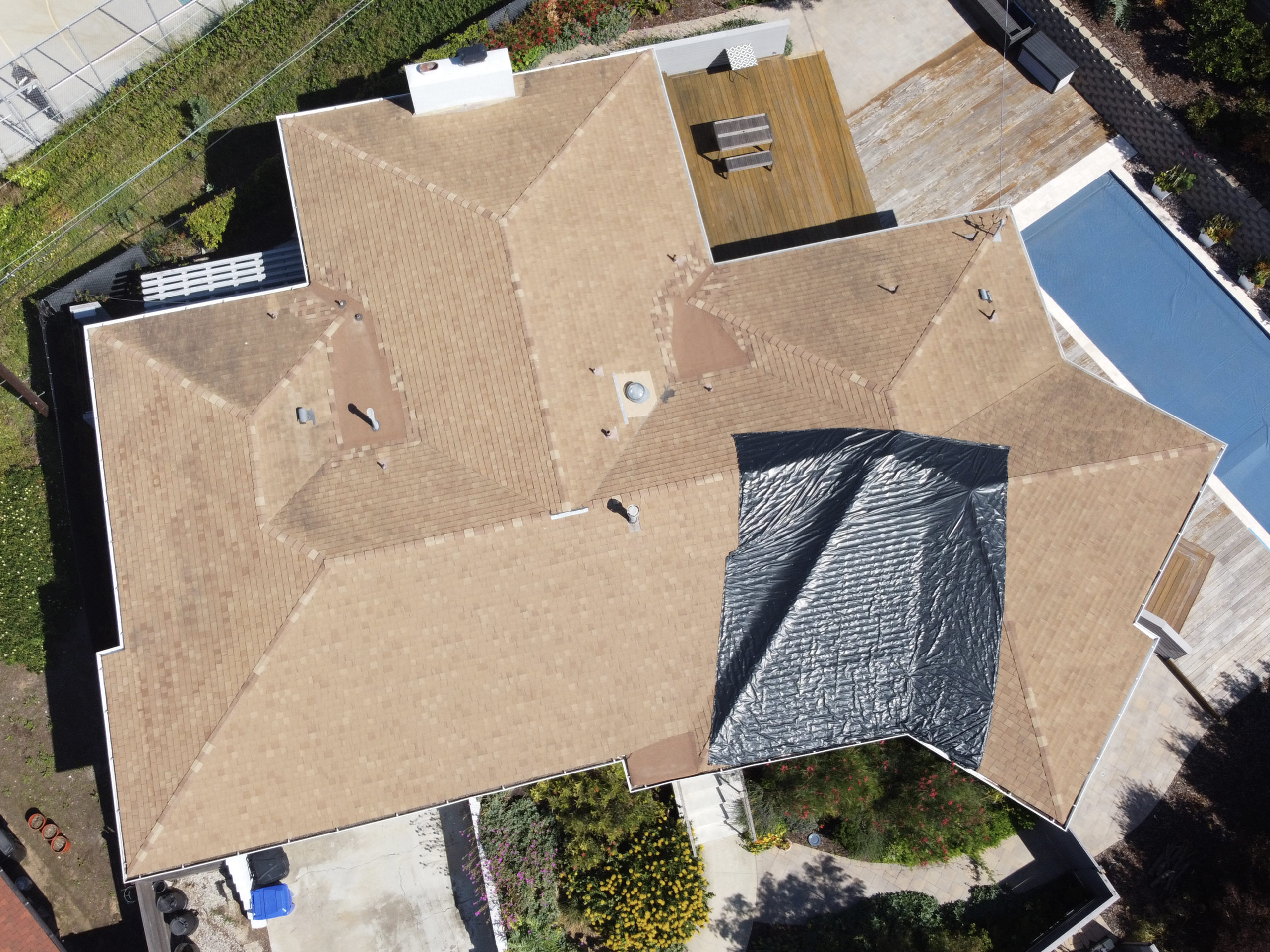 Your shingles can tell you whether your roof is distressed as long as you know where to look. Look for the following:
Cracks, damages, or buckling: your shingles should lie flat against the roof. So if you see any variations from this, you need to get a-fixing.

Decays: shingles are designed to withstand rot. However, due to wear and tear from protracted use, they may become brittle and start to decay.

Missing granules or build-up of granules in gutters: prolonged exposure to the elements can cause shingles to loose granules, thus appearing patchy or having bare spots. Sometimes, however, the shingles do not show obvious signs of missing granules, and the only indicator you get is a build-up of granules in the gutter. If you find granules in the gutter, don't hesitate to

contact expert help

to check for the state of your roof.

Dark streaks on shingles: they might look like dust or debris, but they are airborne algae. Because they keep moisture in, they may cause water damage to your roof if they are not properly cleaned out.
Your house documents

Your home improvement records will show you what the roof was made up of and when it was last repaired, giving you insights into how soon you need to fix or replace it. For instance, if your roof was made up of typical asphalt shingles, you should expect it to last for between 20 to 25 years. However, if the roof was installed over an existing layer of shingles, you should consider replacing it as it nears the 20-year mark.

The flashing
Vents, skylights, and chimneys typically have flashing to seal the roof's seams from rain and inclement weather. Have these areas of the roof examined to ensure that they do not have any cracks or breaks, as this could lead to roof leaks. Our team of experts at GBC Remodelling will give you all the help you need, including recommending whether to change the flashing and the best flashing for you.

Your roofline's shape
A non-distressed roofline should be straight and strong. Thus, if you notice dipping, curving, or sagging in your roofline, it may be an indicator of water damage somewhere in the roof. Note, however, that framing issues may also cause a sagging roofline. So it is essential to have the sagging checked out as soon as you notice it. If the sagging roofline is accompanied by leaks or visible shingle damage, then you need to replace the roof as a matter of urgency – you might be a few days or hours away from a cave-in.

Moss and fungi on rooftops
As with the algae, moss and fungi on your rooftop can spell trouble. Because they thrive in moist environments and retain moisture, they tend to worsen the water damage. On the plus side, their presence gives you a sign that you may need to repair your roof or get a new one.

You recently had a storm
Storms are known for wreaking havoc on rooftops and are the leading causes of roof replacements. No matter the age or state of your roof before the storm, heavy rainstorms, ice storms, hail storms, hurricanes, and tornadoes typically do a number on rooftops. With high-speed winds that can cause shingles to crack or rip them off the roof totally and snowstorms that tend to seep into cracks on the roof, a new roof may be just what you need.
Get expert help for your roofing needs
GBC Remodeling, Inc. is committed to helping homeowners like you make informed decisions that fit your lifestyle and budget. We are a proud Authorized Platinum Dealer of TEX•COTE® and Owens Corning Preferred Contractor.
Our excellence in lifetime exterior coatings and paint, roof replacement, windows & doors make us the preferred contractors all over San Diego. With over 30 years as a roofing contractor in San Diego, we guarantee exceptional results with the best quality in the industry. Call us today for your free home inspection, and get an up-close look at why we are the number one remodeling company in San Diego.