Welcome to GBC Remodeling, your trusted Roofing Company in San Diego for Over 20 Years!
Industries Best 50 Year Warranty
Free Estimates
Roof Repair | Replacement
Licensed + Insured
Glowing References
Storm | Leaky Roof Specialists
Multiple Payment Options Available | Offering NO CONTACT Free Estimates!

Book Online & Get 10% off Your Roof Quote! Free Estimates!
Our Roofing Company in San Diego, CA  Offers Roof Repairs and Replacements
GBC Remodeling provides dependable roofing installation, repair, and maintenance for residents in San Diego, CA. With over 1,000 projects concluded for thousands of clients in the San Diego area, few roofing contractors are more experienced than we are.
In addition to being licensed and insured, our service is backed by the best roofing warranties in San Diego. Our roofing installations come with an unassailable 50-year warranty, so you can rest assured that your home or business will continue to enjoy first-rate protection and our guarantee of quality.
Contact us today for your roofing installation, roofing maintenance, roof repairs, or any other San Diego roofing services you need. Request a free estimate today, and one of our experienced contractors will contact you.
View a live map of all of our completed jobs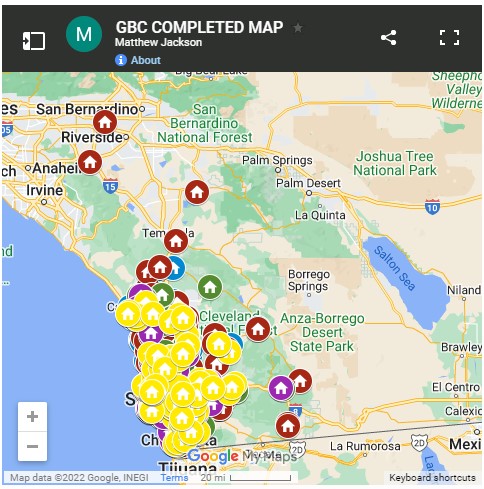 Reliable Roofing Services in San Diego | Licensed, Bonded, and Insured
We specialize in all major roofing services, whether you need a new roof, roof replacement, planned roof maintenance, or emergency roof repair.
Are you curious about a roof replacement cost in San Diego, or do you need a free estimate from our San Diego roof repair specialists? Call 858-519-1003 or send us a note at office@gbcremodel.com.
No matter your situation, our roofing company services all types of roofs:
Shingle Roofs/Asphalt Composite Roofs (Owens Corning Shingles)

Flat Roofs or Low Slope Roofs

Tile Roofs

Metal Roofs

Solar Panel Installation

Synthetic Roofing
Professional Roofing Company San Diego, CA
Satisfaction Guaranteed on all Residential Roofing
GBC Remodeling inspectors, installers, and roofing specialists know the value of a sturdy roof – it's what keeps your family, valuables, and home investment safe – which is why you should trust your roofing project to experienced contractors.
Our specialist roofers can help with all your roofing needs, from roofing repairs to complete re-roofing, solar panel installation, and any other roofing service you require.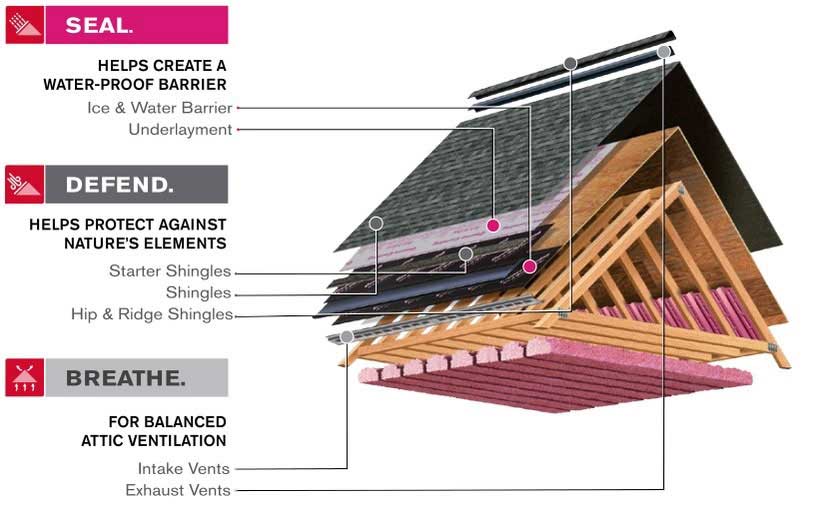 San Diego Roofing Contractors that Delivers Expert Service With Satisfaction
As part of our service, we help homeowners make the right decisions for their biggest investment. GBC's roofing services will involve you in the process, so you can really understand what we're doing, rest assured that your vision becomes a reality. At GBC, we stand behind the quality of our work with a lifetime warranty. Our Owens Corning® COOL Roof Collection colors are specifically designed to reflect the sun's rays, helping to make your home more comfortable and energy efficient. Now you can save energy and look great at the same time.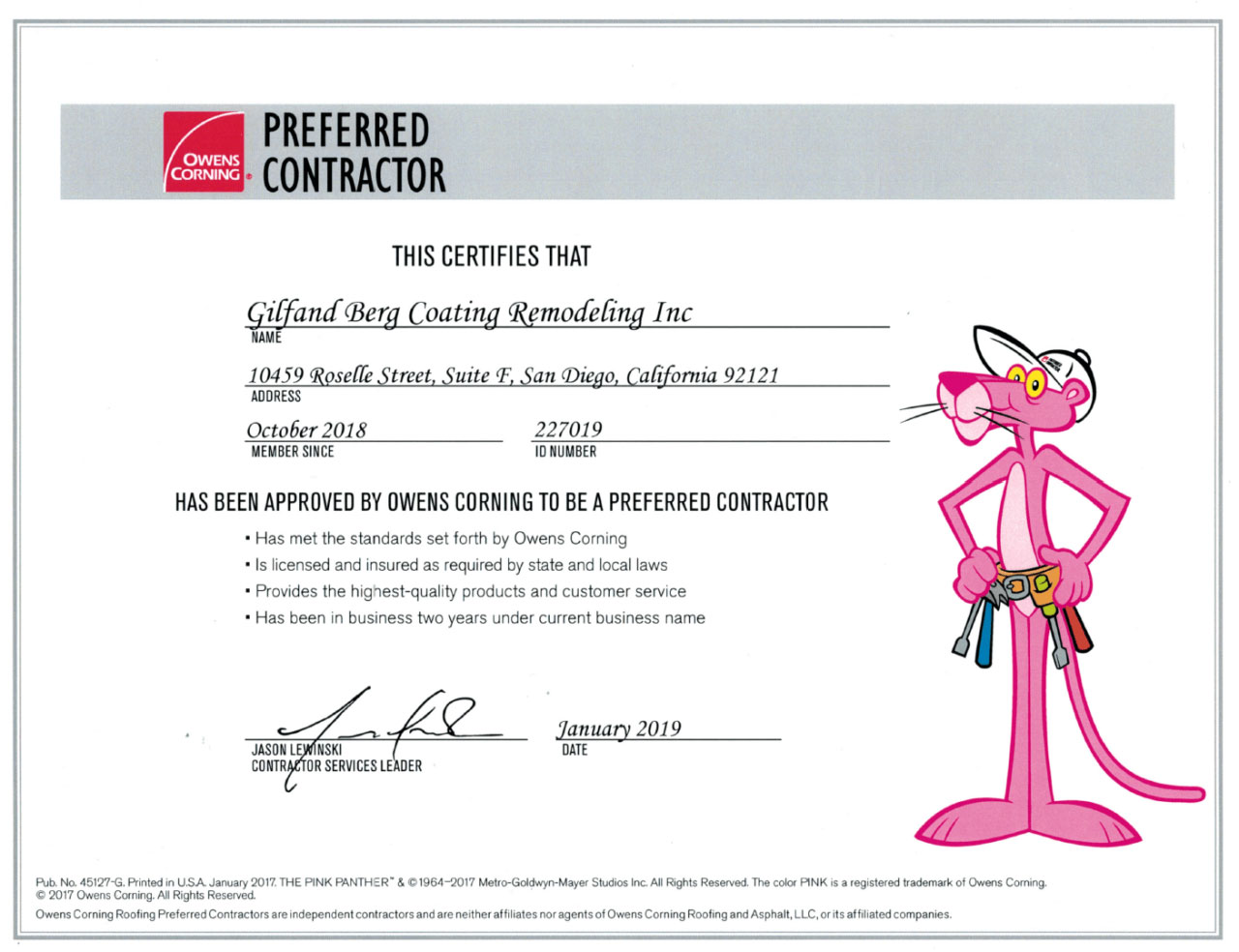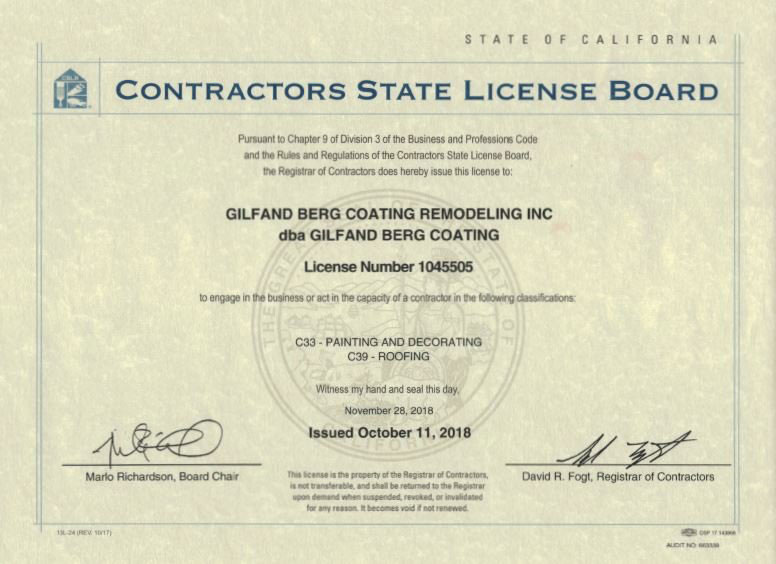 100% Backed Roofing Products
Our roofing company uses only top-quality roofing materials and products from manufacturers like Owens Corning and more. Not all roofing materials are made equal, and we take great pride in providing high-quality products for your home roof and exterior.
When you choose GBC, all our products are backed 100% by our manufacturers. So whether you need a repair or a new roof installed, you can trust that GBC Remodeling, Inc. will always use the best quality materials and products on every project.
For the best roof inspection in San Diego at extremely affordable rates, get in touch with us to get a free estimate on all roofing services. We make sure we inspect everything to safeguard your house from unwanted roofing problems.
Contact 858-519-1003 for more information about our manufacturers and roofing services.
Frequently Asked Questions (FAQ)
1. What services does your roofing company provide?
Our roofing company offers a wide range of services including roof installation, roof repairs, roof replacements, roof inspections, gutter installation and repairs, skylight installation, and general roofing maintenance.
2. How do I know if my roof needs repairs or replacement?
There are a few signs to look out for, such as water leaks, missing or damaged shingles, sagging or uneven areas, increased energy bills, and visible signs of wear and tear. We recommend scheduling a professional roof inspection to assess the condition of your roof accurately.
3. How long does a roof installation or replacement take?
The duration of a roof installation or replacement project depends on various factors, such as the size and complexity of your roof, weather conditions, and the materials chosen. On average, it can take anywhere from a few days to a couple of weeks to complete the process.
4. Are you licensed and insured?
Yes, we are a fully licensed and insured roofing company. Our team of professionals is trained to handle various roofing projects safely and efficiently, giving you peace of mind throughout the process.
5. What types of roofing materials do you work with?
We work with a wide range of roofing materials to suit different preferences and budgets. These include asphalt shingles, metal roofing, tile roofing, wood shakes, and flat roofing systems. Our experts can help you choose the best material for your specific needs.
6. How often should I have my roof inspected?
It is generally recommended to have your roof inspected at least once a year. Regular inspections can help identify and address minor issues before they escalate into more significant problems, potentially saving you money in the long run.
7. Do you offer warranties on your roofing services?
Yes, we provide warranties on both labor and materials used for our roofing projects. The specifics of the warranty may vary depending on the type of service and materials chosen. Our team will provide you with detailed information regarding warranties during the consultation process.
8. How can I schedule a roof inspection or request a quote?
To schedule a roof inspection or request a quote, you can contact us through our website or give us a call. Our friendly customer service representatives will be happy to assist you and set up an appointment at your convenience.
9. Do you offer emergency roof repairs?
Yes, we understand that roofing emergencies can occur at any time. We have a dedicated team available for emergency roof repairs to address urgent issues and minimize further damage to your property.
10. How can I maintain my roof to prolong its lifespan?
Regular maintenance is key to extending the lifespan of your roof. It includes cleaning gutters, removing debris, inspecting for damage, and addressing issues promptly. We offer roof maintenance services to help you keep your roof in optimal condition.
Book Online & Get 10% Off your Quote.