Welcome to GBC Remodeling, your trusted Roofing Company in San Diego for Over 20 Years!
Industries Best 50 Year Warranty
Free Estimates
Roof Repair | Replacement
Licensed + Insured
Glowing References
Storm | Leaky Roof Specialists
Multiple Payment Options Available | Offering NO CONTACT Free Estimates!

Book Online & Get 10% off Your Roof Quote! Free Estimates!
Our Roofing Company in San Diego, CA  Offers Roof Repairs and Replacements
GBC Remodeling provides dependable roofing installation, repair, and maintenance for residents in San Diego, CA. With over 1,000 projects concluded for thousands of clients in the San Diego area, few roofing contractors are more experienced than we are.
In addition to being licensed and insured, our service is backed by the best roofing warranties in San Diego. Our roofing installations come with an unassailable 50-year warranty, so you can rest assured that your home or business will continue to enjoy first-rate protection and our guarantee of quality.
Contact us today for your roofing installation, roofing maintenance, roof repairs, or any other San Diego roofing services you need. Request a free estimate today, and one of our experienced contractors will contact you.
View a live map of all of our completed jobs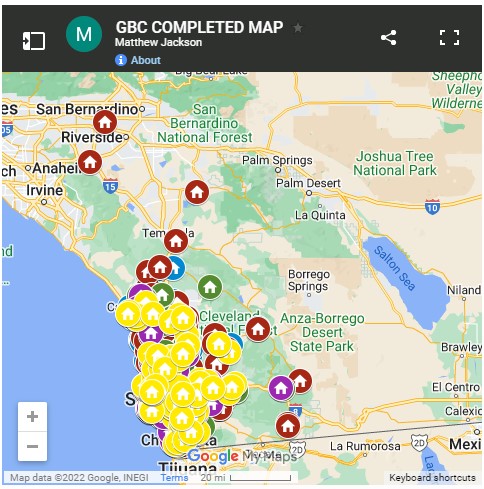 Reliable Roofing Services in San Diego | Licensed, Bonded, and Insured
We specialize in all major roofing services, whether you need a new roof, roof replacement, planned roof maintenance, or emergency roof repair.
Are you curious about a roof replacement cost in San Diego, or do you need a free estimate from our San Diego roof repair specialists? Call 858-519-1003 or send us a note at office@gbcremodel.com.
No matter your situation, our roofing company services all types of roofs:
Shingle Roofs/Asphalt Composite Roofs (Owens Corning Shingles)

Flat Roofs or Low Slope Roofs

Tile Roofs

Metal Roofs

Solar Panel Installation

Synthetic Roofing
Professional Roofing Company San Diego, CA
Satisfaction Guaranteed on all Residential Roofing
GBC Remodeling inspectors, installers, and roofing specialists know the value of a sturdy roof – it's what keeps your family, valuables, and home investment safe – which is why you should trust your roofing project to experienced contractors.
Our specialist roofers can help with all your roofing needs, from roofing repairs to complete re-roofing, solar panel installation, and any other roofing service you require.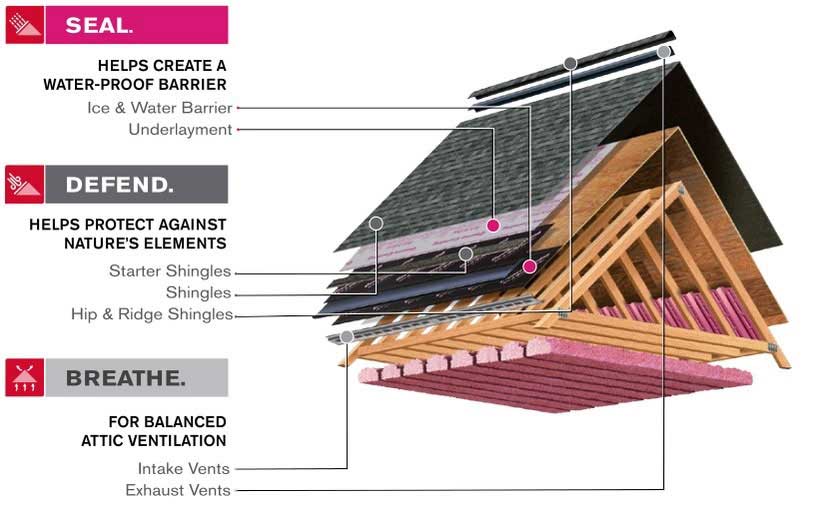 San Diego Roofing Contractors that Delivers Expert Service With Satisfaction
As part of our service, we help homeowners make the right decisions for their biggest investment. GBC's roofing services will involve you in the process, so you can really understand what we're doing, rest assured that your vision becomes a reality. At GBC, we stand behind the quality of our work with a lifetime warranty. Our Owens Corning® COOL Roof Collection colors are specifically designed to reflect the sun's rays, helping to make your home more comfortable and energy efficient. Now you can save energy and look great at the same time.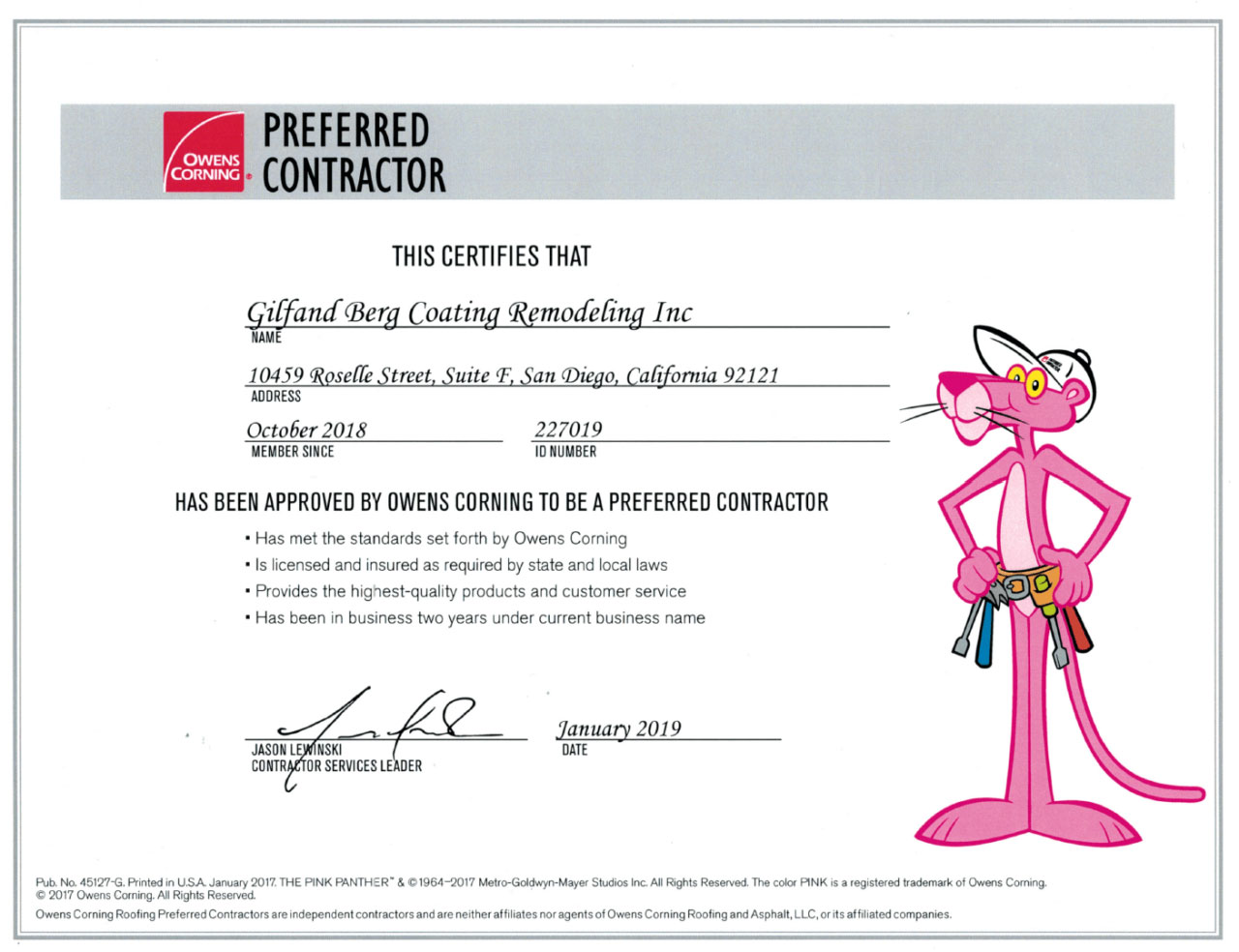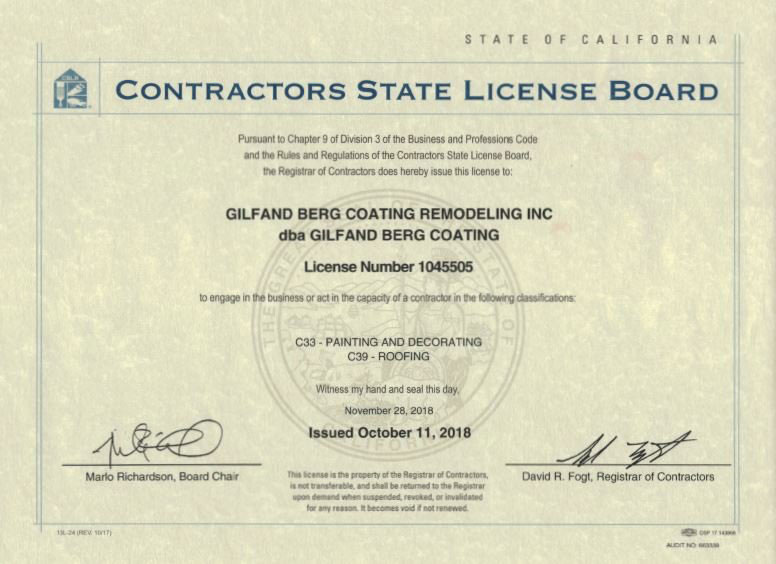 100% Backed Roofing Products
Our roofing company uses only top-quality roofing materials and products from manufacturers like Owens Corning and more. Not all roofing materials are made equal, and we take great pride in providing high-quality products for your home roof and exterior.
When you choose GBC, all our products are backed 100% by our manufacturers. So whether you need a repair or a new roof installed, you can trust that GBC Remodeling, Inc. will always use the best quality materials and products on every project.
For the best roof inspection in San Diego at extremely affordable rates, get in touch with us to get a free estimate on all roofing services. We make sure we inspect everything to safeguard your house from unwanted roofing problems.
Contact 858-519-1003 for more information about our manufacturers and roofing services.
Book Online & Get 10% Off your Quote.